15 high profile athletes have been suspended for doping by the cycling authorities in the past year. Five sports faced a larger number of positive tests.
---
Compared to the numbers of 2015, the most noteworthy evolution is the decreasing number of cases involving the 1st and 2nd divisions' teams: only 3 in 2016 against 8 in 2015 and 5 in 2014.
The balance could have appeared even more flattering if cycling did not have to deal with the doubling of its figures during the last quarter of the year. The most recent cases came almost exclusively from Continental teams. Attention must be given to the reasons of this upsurge regarding a wide bunch of mainly amateur teams which are not required to participate in the athlete's passport program, unlike World Tour or Pro Continental teams.
An other fact highlighted by these results: in the vast majority of cases (12 out of 15), the detected substances are EPO, CERA or anabolic steroids. It prompts us to remain vigilant. A good point is the reduction in the number of doping cases related to World Tour (4 times less) and Pro Continental teams (twice less) in comparison with 2015 but also 2014.
That does not mean doping has become an ordinary subject into cycling. This also applies to sports such as athletics or weightlifting. Even if the number of cases is lower than the year before, those two sports are on the front line regarding the retests of 2008 and 2012 Olympic Games samples. But also regarding the McLaren report, involving 728 (!) Russian athletes according to the publication of the second section of the report, last December.
Finally, it should be noted that for the very first time, Athletics is not the sport leading our unenviable ranking, which is now Baseball.
TAKE A LOOK AT OUR DOPING CASES INFOGRAPHY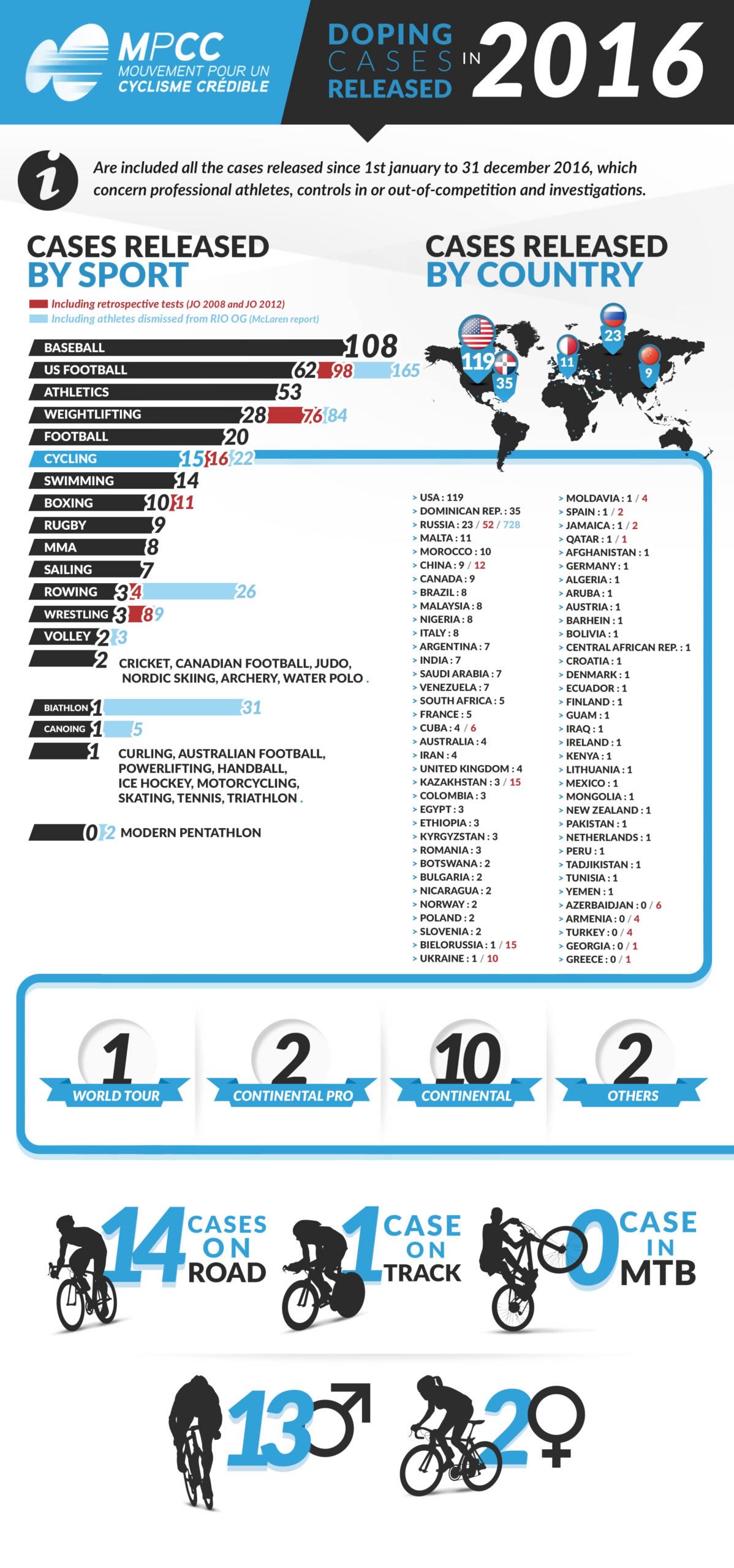 TAKE A LOOK AT THE INFOGRAPHIES AS OF 31 SEPTEMBER, 31 MARCH AND 31 MAY