For the third year in a row, MPCC lists the doping cases released sport by sport, in order to better situate the place cycling occupies in comparison to other sports. Baseball is still leading the way.
---
After five months, Baseball have already faced 54 doping cases – three times more than the previous year at the very same day. While Cycling achieves to reduce its number of cases year after year, a few sports fail at this task. This trend can be explained by the retests carried out on past competitions samples. In late May, 14 athletes who took part in the Beijing 2008 Olympic Games have been proved to have tested positive thanks to retrospective analyses. Some others operations of this kind – about Beijing 2008 OG but also London 2012 OG – are in progress but the names of the athletes remain as unknowns. The cleaning is done but several years behind.
This is a confirmation: cycling's figures are decreasing. 4th most affected sport in both 2014 and 2015, cycling is 9th with 4 cases. This is far less than Athletics' 24 cases, but also Football (15), Weightlifting (12) and Swimming (10).
The most affected country is USA, with alarming figures: already 53 doping cases.
Identifying cases of doping is not an easy task and is subject to discretion if required by their respective international federations, some do not advertise doping cases in their discipline. Cycling, in contrast, reveals each positive test. Our numbers are therefore based on proven cases in 2016, according to official communications federations and anti-doping agencies.
MPCC cycling counting includes:
– Road cycling: 4 cases identified for this most publicised discipline.
– Track cycling: zero case
– MTB: zero case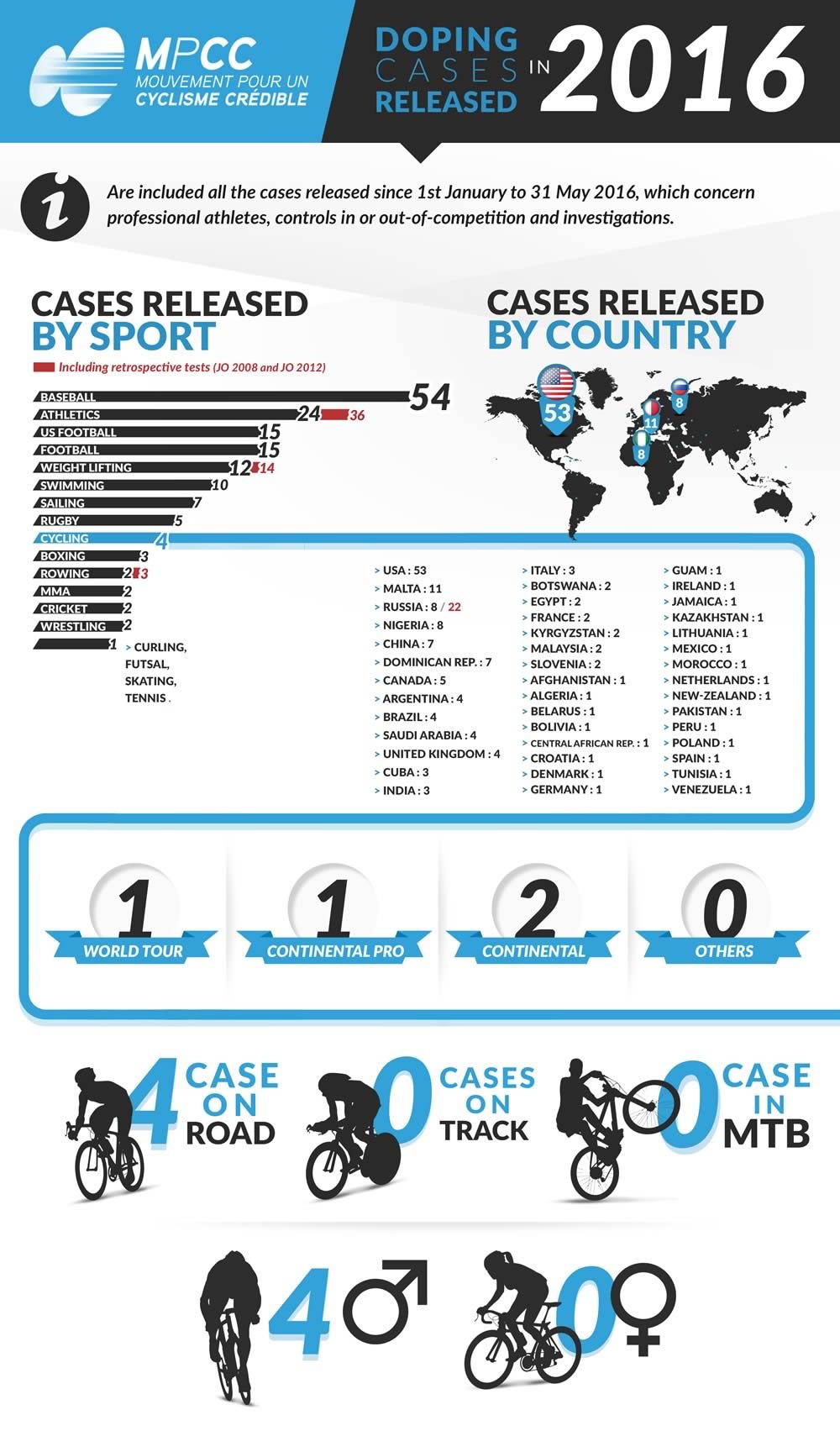 Update : 25/04/2017