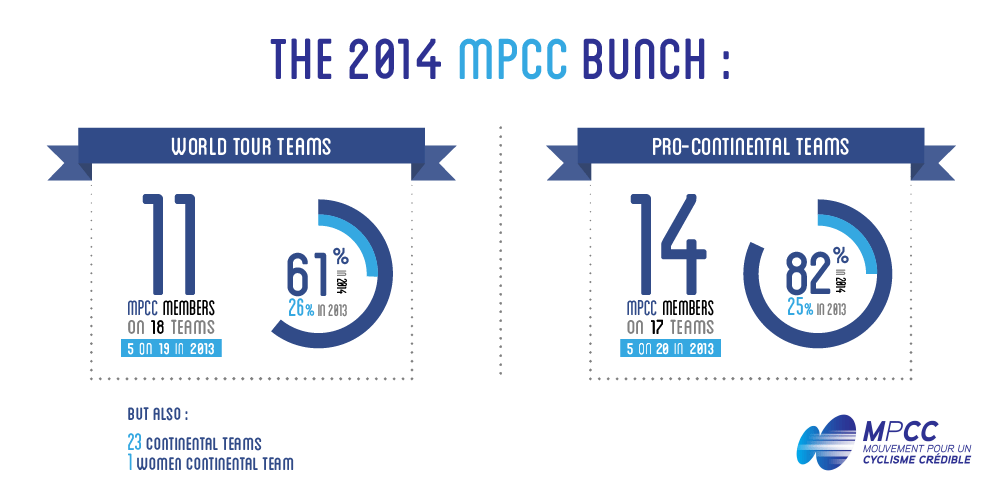 The impact of the Armstrong case was the trigger at the end of 2012 to an awareness that quickly prompted teams, sponsors, federations and organizers to join or support MPCC. There was also the speech of Christian Prudhomme at the presentation of the 100th Tour de France, a little more than one year ago in Paris. The boss of the Tour de France had clearly stated that the organizers of ASO would give therefore a preference to teams of our movement.
Like many others did, the Australian team Orica-Green Edge then joined the movement, and this permitted to MPCC teams to get the majority within the World Tour (*). There was especially the involvement of all components of cycling in this fresh boost and the respect of commitments made on a voluntary basis, like those runners who chose to wear the blue bracelet MPCC.
These are the different episodes that participated in renewed credibility of cycling during the past year, but have also allowed MPCC to strengthen as an interlocutor within our sport.
Eleven members teams within World Tour
This representation is confirmed and consolidated, day after day, with an uninterrupted cycle of new memberships. These past two months, eight teams have applied to join MPCC, without forgetting a women's team that also applied. It's a first !
(*) This will still be the case in 2014, despite the disappearance of the team Vacansoleil (and Euskaltel – non member), but with the accession to the global division of Europcar, MPCC member since 2007.